Understanding the CSS Selectors

The ability to add CSS selectors — Type, Classes and ID — to an element is an important tool to utilize. These are configured in the Styles pane at the top.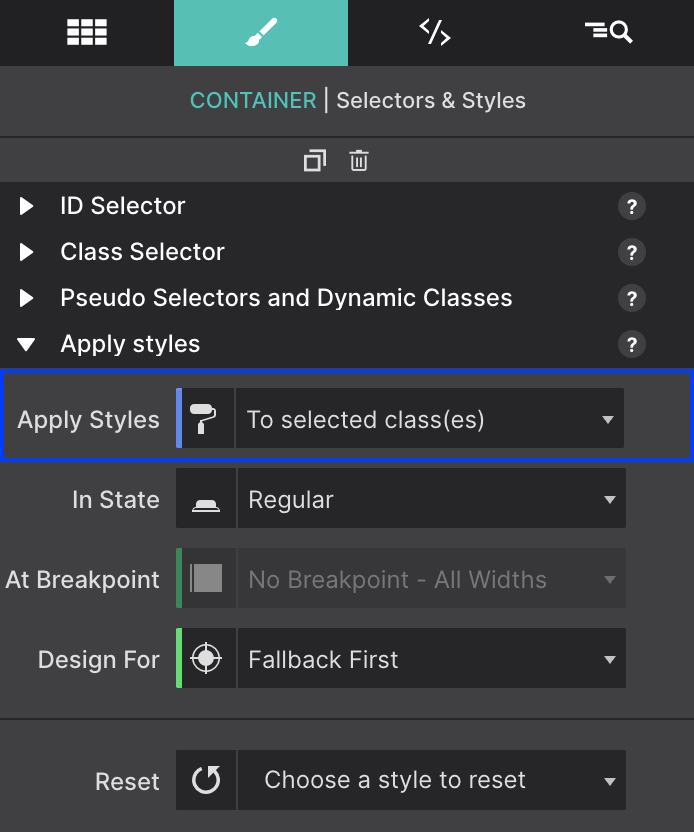 A selector 'binds' an element or group of elements to design rules defined in the Styles pane. Style definitions are related to selectors and the top part of the style section is used to manage exactly that.

Enter default styles to the Type.

Use a Class name so that common items share the same styles.

Give a unique ID name for an individual element with a one-time unique variation.

Tip: Why using selectors?

Using Selectors speeds up your design time, saving you from re-entering the same style choices multiple times. Apply selections to a Type or Class name to keep common styles in-sync.

Predefined, framework-specific Classes can also be selected from a drop down. There is no requirement to use these predefined classes, but they come handy, especially when creating interactive components such as accordions and navigations.

In addition, the design rules associated with a predefined class can be fully customized using the CSS tools in the Style section.

Contents in this chapter

---